Click on thumbnails for larger pictures!





ROCKS LONESOME SUMMER - 1999 APHA Bay Tovero Colt
Homozygous





Sire: Hard Rock Summer

Dam: Omaks Lonesome Dove

1999 Homozygous bay Tovero. Jr is a very easy to handle fellow. No bad habits, bathes, ties, hauls, teases and handles easily. Jr has a massive chest and is thick in the body. Jr was injured as a foal and we weaned him at 2 weeks so we could treat him. He just never got as tall as we would have hoped. He is about 15.0. He is still intact and if he doesn't sell soon we will geld him and give him to the kids. He is that docile!
$1500
Contact:
Shari Pratt
Moo-Lah Ranch
208-686-1717
Located in Worley, Idaho
Ad Placed 12-25-01






THE ROCK IS HOME - 2001 APHA Sorrel Tobiano Colt
Pedigree





Sire: Black Rock Star

Dam: MD Homespun

Sorrel Tobiano almost 14 hands at 7 months. Will be huge. Dam is over 16 hands. Dam top ten Pleasure Driving. Colt will be exceptional English horse. Very large stride and free moving.

$4000 US

Contact:
Edith Dallas
Located in NJ
Ad Placed 10-4-01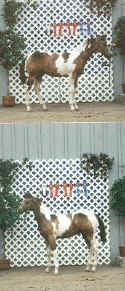 "MOCHA" - 2001 APHA Buckskin Tobiano Colt





Sire: Wildcat Bobby Luck

Dam: Diamonds And Minxs

ABSOLUTELY Gorgeous buckskin Tobiano Colt, 50/50 markings, great head and neck, Big chest and hip, straight and sweet. At his first show as a four month old, he won the weanling / yearling halter class. He is a definite halter and performance prospect. Possibly homozygous, very sweet and willing.

$3500

Contact:
Shirley
Located in Rogue River OR
Ad Placed 9-28-01






(unnamed) - 2001 APHA Overo Colt





Sire: Sirprise To Me, by Sir Norfleet
Dam: Priorty Rumors, by Impressionist
This Spectacular colt will take you to the winners circle! Don't pass him up! Very pretty head and nice hip! HYPP N/N See his full sister Sirprisesonly Cricket (under Fillies).

$4500 Best Offer

Contact:
D & D Hardly Able Stable
Email
208-245-3021
Located in St. Maries, Idaho
Ad Placed 9-28-01





"BUSTER" - 2001 APHA Sorrel Solid Colt





Sire: Dixons ScotishLark

Dam: Sensational Caper

Very nice, leggy, colt... big blaze, 1 white sock. Double bred Scotch Bar Time. Sire is an own son of Mardell Dixon, and Dam is a granddaughter of Scotch Bar Tommy and her sire is by an own daughter of Sonny Go Lucky. Sire and Dam are both 15.3.

$850

Contact:
LeAnn Fasen
Located in Hastings, MN
Ad Placed 9-28-01





"GEORGE" - 2001 APHA Sorrel Solid Colt





Sire: Boston D Bars Shadow, QH

Dam: Bartenders Dream

Nice, nice colt, he was one of the nicest foals we had this year. Reason for selling.... I have had a terrible year as far as vet expenses, and I need to move some horses.

$600

Contact:
LeAnn Fasen
Located in Hastings, MN
Ad Placed 9-28-01






STEVIE RAY - 2001 APHA Black Tobiano Colt





Sire: Splash O Blue Sugar, by Splash Bar Jet
and out of a Smooth N Easy mare

Dam: R K Leo Sand Buffy, by Leos Streak out of a Skip
Sir mare (heavily bred Leo and Skipper W)

Very nicely muscled with good straight legs.

$1500

Contact:
Don Merz
Located in Liberty Idaho
Ad Placed 9-28-01