TOPPIN DEE STANDARD - 2001 APHA Bay Overo Filly





Sire: Gold Standard, Superior Western Pleasure

Dam: Sunny Comanche, Superior producer

Porky " is already a Circuit Champion winner and was the year end high pint weanling filly " for the ESPHC. She is fit and ready o go to the shows, a definite halter horse, but she has a real cute lope also. Video available to serious inquiries. She is in the breeders Trust and her Pinto papers are pending.

$5000

Contact:
Anna Meade
Southview Paints
Located in NJ
Ad Placed 2-24-02






SHES SUCHA CLASSIC - 2001 APHA Sorrel Overo Filly





Sire: The Classic, Superior Halter stallion

Dam: Ms Imprifist (AQHA point earner & Congress futurity
winner ) a daughter of Sucha Fistful out of an Imprimis daughter.

Beautiful classy filly will halter & ride later on. Futurity $$ earner. Eligible for NWSSA & Triple Crown. APHA Breeders Trust nominated.

$3,500 US Funds

Contact:
Thea Mackenzie
Mackenzie Meadows
Located in Pitt Meadows, BC CANADA
Ad Placed 2-15-02






JUSTA JAZZY JEWEL - 2000 APHA Black Tobiano Filly
Homozygous





Sire: Call Me Mr Jewel, Black Tobiano

Dam: Jeri Red, sorrel tobiano. Bloodlines of Leo/
Three Bars/ Jet Deck/ & Tuffy's Two Spades.

80% black with a baby doll head, straight legs and a friendly disposition. She leads well and has been loaded and hauled.
This little girl should mature to about 15-1+ Hands and weigh about 1200 Lbs. She is a definite show prospect and will produce some beautiful colored foals for you.

$4,200

Contact:
Marti
R&M Paints
Located in Longmont, Colorado
Ad Placed 2-15-02






LEO SAN SUNUP - 2001 APHA Brown Tovero Filly





Sire: Jeweled Sunup

Dam: A big, beautiful Leo San Siemon QH.
Skipper W and Leo bloodlines.

Baby doll head with 2 blue eyes. Short backed and muscular body. Gorgeous hip and top line. This little girl is show quality and will definitely halter while young and ride later on. Should mature at 15-1+.

$2000

Contact:
Marti
R&M Paints
Located in Longmont, Colorado
Ad Placed 2-15-02






2002 AQHA Sorrel Filly





Sire: Zip To Impress

Dam: Aok Sinerfold.

This filly was born on Jan. 24th and is about 10 days old in these pictures. We have already Hypp tested this filly and she is N/N.

$3500

Contact:
Cindy Weller
Weller's Paint and Quarter Horses
Located in MI
Ad Place 2-16-02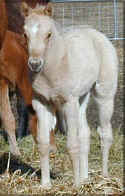 2002 APHA Palomino Solid Filly





Sire: Conclusive Mister

Dam: Zip Bar Doll

$2500

Contact:
Cindy Weller
Weller's Paint and Quarter Horses
Located in MI
Ad Place 2-16-02







Sire: Mr Yella Fella

Dam: JMK Miss Immaculate

$5000

Contact:
Cindy Weller
Weller's Paint and Quarter Horses
Located in MI
Ad Place 2-16-02




SHEZA PAYTON PLAYGIRL - 2000 APHA Bay Solid Filly





Sire: Mackadoodle Dandy

Dam: Versary Savannha, Versary Bars
and Bold Chick

HUGE, Sweet filly has her ground work done and has been started lightly under saddle. She should mature to be a 16 hand Tank. She has very nice breeding and could be a great broodmare or a great riding horse.

$1000

Contact
Shirley Woods
Whispering Woods Wranch
(541) 582-8030
Located in Rogue River OR
Ad Placed 12-02-01






TOMMYS HEART OF GOLD - 2001 APHA Buckskin Overo Filly





Sire: VR Master Tommy

Dam: Edens Fancy Free

This filly has a unique gold heart on her shoulder. She is bred to
halter and ride. Her sire, VR Master Tommy is an APHA Champion
(earned as a 2 yr old), with Superiors earned in Halter, Western Pleasure, Hunter Under Saddle & Trail. He was the #1 Honor Roll Trail Horse, and the top 7 Honor Roll in Reining and Western Riding. Tommy is the sire of Futurity winners, ROM, Superior, APHA Champions, Versatility Award Earners and World Champion. This filly will make an excellent all around prospect and is eligible for APHA Breeders Trust. Her dam, Edens Fancy Free is the producer of halter and performance point earners. For further information regarding her sire visit our website.

$4000

Contact:
Cindy Harris
Harris Paints
(410) 754-9566
Located in Federalsburg, Maryland
Ad Placed 12-02-01



MALBEC'S TIANNA - AQHA 1999 Sorrel Filly,



Sire: Doc's Malbec

Dam: Docs Poco Tianna

Sorrel,4 socks, star, snip, 14.1h, 1050#, She's broke, been out on trails, goes thru water, nice filly to ride. Light mouth.

$4500 no trades please
Debbie Simpson
909-360-0313
Located in Riverside, Calif.
Ad Placed 12-02-01



PPQ SNOOP SKIPADO - 2000 APHA/AQHA Palomino Overo Filly





Double registered Palomino Filly...... PPQ Snoop Skipadoo, (APHA). Skipa Bar Cutie, (AQHA). "Lilly" has her regular papers in both associations and could get her PHBA papers(using her AQHA papers). She's currently 15H. This is a filly that has potential in several areas! Western pleasure, halter, WR, pattern classes, reining.....you decide. She's very athletic, classic Skipper W look, flat kneed, compact body, tiny ears, big expressive eyes......and double registered!! She's foundation bred top and bottom



[TOP]




RED HOT JEWEL - 2001 APHA Sorrel Tovero Colt





Sire: Call Me Mr Jewel, Black Tobiano

Dam: Bandits G String

Beautiful head and neck, compact muscular body with long legs and very correct. He is probably homozygous. Show him- stand him at
stud or geld him. He will be a winner with his pretty looks, great
disposition, and athletic ability. His full sisters are cutting cattle
out in the pasture as one and two year olds. He should mature at 15 hands. Leo and Piggin String bloodlines. Don't miss out on this super prospect.

$1800

Contact:
Marti
R&M Paints
Located in Longmont, Colorado
Ad Placed 2-15-02






CNC DIDNOTGETSIGND - 2001 APHA Chestnut Solid Colt





Sire: Autograph, APHA & PtHA Champion

Dam: Skips Sunrise, double bred Skipper W

Gorgeous heavily muscled colt that is bred to go in any direction. Will Halter & Ride!! Paid into three Futurities. OPHB Triple Crown, Hells Canyon Futurity, and Sierra Paint Horse Club. He could be your next futurity winner.

$1200

Contact:
Ana Caldwell
C-n-Colors Ranch
541-855-7896
Located in Gold Hill Oregon
Ad Placed 2-5-02





[TOP]





SPRING ENCORE - 1991 APHA Sorrel Solid Mare





Sire: Robins Feature, H-68 P-103 APHA Superior all Around Ch.

Dam: Spring Fever

Springs is Very well bred, Check her pedigree. I had the opportunity to meet her Dam who is still going strong at 27 taking her youth riders all the way to the top! Springs throws a very nice foal as you can see from this 2 week colt pictured above. Springs is broke but we do not know how well yet. we will put her in a training program this fall and will show her 2002. She will be bred to Hard Rock Summer for a 2003 foal. Springs is a easy mare to be around and is easy to breed. She loads and clips like she has been around it all her life.

$2500

Contact:
Shari Pratt
Moo-Lah Ranch
208-686-1717
Located in Worley, Idaho
Ad Placed 2-26-02






PAINTED INXS - 1995 APHA Bay Tobiano Mare





Sire: Cherokee Indian, SI 95, Superior Race 65 Perf. pts,
Winner of $13,450.55. Lifetime Leading Sire.
Sire of Stakes winners winning nearly $240,000.00

Dam: Smarty Lowpants, Foundation AQHA ,

Inxs has been ridden a few times, but no meaningful saddle training and no reason you could not make her a rider. We would keep her as breeder but going in a different direction and need the room. She would be an asset to any breeding program. She produced a gorgeous Bay tovero filly in 2000.

$3000

Contact:
Ana Caldwell
C-n-Colors Ranch
Located in Gold Hill, OR
Ad Placed 2-25-02






MS IMPRIFIST - 1997 AQHA Chestnut Mare





Sire: Sucha Fistful

Dam: Miss Imprimis

HYPP N/H, 15hh , "Nikki" won the AQHA Congress weanling filly futurity under all judges. She is an AQHA Point earner & has had 60 days training under saddle. Gorgeous Halter mare. She has had one gorgeous Paint foal (also for sale) Shes Sucha Classic & is in foal to "The Classic" for Mar 2002 foal. 2 yr old photo - she has filled out a lot since then.

$5,500 US Funds

Contact:
Thea Mackenzie
Mackenzie Meadows
Located in Pitt Meadows, BC CANADA
Ad Placed 2-15-02






TRULEE DEELITEFUL - 1995 APHA Black Tobiano Mare





Sire: Tru Bruiser

Dam: Jeri Red, Bloodlines of Leo,
Three Bars, Jet Deck/ & Tuffy's Two Spades.

She is 80% black, 15-3+H/1200. She is an own daughter of the late Tru Bruiser who sold for $250,000. Dee Dee is a people lover. Great disposition and conformationally correct, and a beautiful head. Dee is completely sound. She has had a year of professional training but has been out with the brood mares for the last 3 years. She sells in foal to Jeweled Sunup (Colored foal guaranteed). Due in early June '02'. This mare is really special.

$6,500

Contact:
Marti
R&M Paints
Located in Longmont, Colorado
Ad Placed 2-15-02




SUPRA SAN DEE - 1987 AQHA Bay Mare





Sire: Sir Quincy San

Dam: Miss Cat Angel

Nice Big, Buff, Sweet, Very well trained AQHA mare, Shown
Extensively, trail ridden for the last few years but it wouldn't take much to refresh her memory for the show ring, Should produce nice Paint babies, I could include a breeding to my Buckskin Tobiano Stallion, They would make a wonderful cross.

$5000

Contact
Shirley Woods
Whispering Woods Wranch
(541) 582-8030
Located in Rogue River, OR
Ad Placed 12-01-01



TC DINAH MIGHT - 1995 APHA Chestnut Overo Mare





Sire: Barlink TripleCash, Top 10 at APHA world

Dam: Foundation QH with Wimpy and Gray Badger on her papers.

15 Hands, Minimal white, 1 blue eye and the other partial blue. Mare has been ridden in the hills. Very cute, doll head nice mover.

$2200

Contact:
Mary Finch
530-864-2820
530-624-4212
Calling is better since I only check email once every 10 days.
Located in Orland CA
Ad Placed 11-15-01



[TOP]





RAISIN THE STANDARD - 2000 APHA Bay Overo Gelding





Sire: Gold Standard, Superior Western Pleasure

Dam: Sunny Comanche, Superior producer

Raisin is a minimal bay overo gelding, he is just started under saddle . His Pinto papers are pending and he is in the Breeder's Trust. Will be excellent youth or ammy horse. see him and his full sister for sale at our website. Photo here in winter coat, he sheds out a pretty bay with dapples

$4500

Contact:
Anna Meade
Southview Paints
Located in NJ
Ad Placed 2-24-02






SCRIBBLED INSCRIPTION - 1999 Sorrel Overo Gelding





Sire: Sacred Inscription, by Scribbles & Top Auctioneer

Dam: Top Tontos Tonya, AQHA

ABSOLUTELY SWEET and too CUTE, Handled and ridden by a
9 year old and 2 year old, Sire and dam are both close to 16 hands so even though he is currently 14 hands he will be a nice sized horse, he
needs some time and love, YOUTH/AMATEUR DELUXE, shown/Trained Halter, Showmanship, and Lungeline as a weanling, has been ridden lightly by a child, ponies great, gets along great with other horses, very willing, TOTALLY GROUND BROKE AND SWEET. e-mail for more photos

$1,500 /offer

Contact:
Shirley
Whispering Woods Wranch
Located in Southern Oregon
Ad Placed 2-15-02





[TOP]



JMJ ADD A PATCH - 1983 APHA Bay Overo Stallion





16hh, Superior Halter with 117 Open Performance pts in 6 events. 100% sound in every way. Successfully shown in 2001 by a Nov Amateur. Excellent disposition. Sires Futurity winners in Halter & Performance ! This photo was taken August 2001 at the Canadian National Pinto Show where he earned 2 National Championships & 3 Res National Championships out of 6 classes with a Nov Amateur just learning. Can e-mail additional pictures.
Standing until sold at special 2002 fee of
$650 Canadian ($420 US Funds)

Contact:
Thea Mackenzie
Mackenzie Meadows
Located in Pitt Meadows, BC CANADA
Ad Placed 2-15-02




THE NIGHT MAN - 1997 APHA Black Tobiano Stallion
Double Black Gened




Sire: Spookernatural by Tinky's Spook

Dam: Wahoos Pretty Lady by Wahoos Sierra

Very gentle, pretty (50/50 markings) stallion. Informative for tobiano breeding. Broke to cart and under saddle for 90 days. Rides gentle on trails. Really wants to please. Well behaved and easy to handle.

$6500 OBO- must sell - too many stallions! - make offer

Contact:
Carol Amato
(386)345-2452
Located in Edgewater, FL
Ad Placed 10-4-01





[TOP]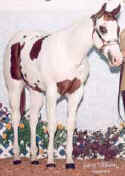 ONE TUFF HOMBRE - 2000 Homozygous Sorrel Tovero Stallion
HYPP: N/H




Sire: Heza Dodger

Dam: Solo Madonna

"Moose" has 27 pts. in Longe line and was the DPHC Year End Champion Longe Liner for 2001. He also has 9 pts. in Open Halter and was the DPHC Year End Reserve Champion in Open Yearling Halter Stallions for 2001. Now here's a horse with the ability to halter one minute and perform the next. Now a days how many stallions have the ability to do both...well "Moose" does, and with the bonus of being able to produce 100% colored babies. He has a sweet heart disposition and is sure to pass his good looks and talents for generations to come. Standing to a limited number of approved mares for 2002.

Cooled Shipped Semen Available
No Live Cover.
Stud Fee: $500
Chute Fee: $200

Contact:
Jodi Gray
Butterball Farm Website
Sparr, FL
(352) 595-5673
Located in Sparr, FL. (12 miles N. of Ocala)
Ad Placed 2-15-02






DIGNIFIED MISTER - 1996 APHA Sorrel Overo Stallion





Sire: Quincy Bar Bonanza

Dam: Dignified Missy

We are running a breeding special on our 16.3 hh APHA stallion Mister. Take 3 years to use the breeding. GUARANTEED. A/I shipping available. Also special on a Lifetime Breeding. Email me for details etc.

Fee For A Limited Time $250.00

Contact:
Tina Hughes
Located in Alpaugh, CA
Ad Placed 9-28-01





[TOP]




Three NEW BMB Blankets





Three new BMB blankets, two 76" and one 78". All are burgundy and silver with leg straps and leather reinforcement. I bought them in 1996 and never took them out of their plastic wrap. I don't know a lot about blankets, so don't know to tell you much more about them, but their description on the plastic says: BLANKET NYL/KER/RIP QUILTED. They don't look to be REAL heavy, so if you need something for turnout in the cold country, these probably aren't what you want.

$65/ea. plus actual shipping costs.

Carol Amato
(386)345-2452
Edgewater, FL
Ad Placed 12-01-01






1993 SUNDOWNER 4 HORSE SLANT TRAILER





7' High, 6' wide, 28' on the floor, Dressing Room is 5 ' on short wall with large window, camper door c/w screen door Drop down feed doors - 4 c/w face screens 2 Escape Doors, collapsible rear tack, center post is removable, padded dividers fold back against wall. Black steel with two tone gray striping, minimal rust 4 brand new tires Aluminum checkerplate under gooseneck and on running boards. Floor and mats are in excellent condition. Delivery possible

Priced to Sell at $10,000 Cdn - a mere $6500 US

Contact:
Liz Hickling
Aspen West Paint Horses
Located in Tofield, Alberta Canada
Ad Placed 11-28-01